Filebot é uma ferramenta para organizar e renomear seus filmes, seriados ou animes, bem como músicas, além de poder fazer download de legendas e artes. 
Para outros sistemas operacionais visitem o site do desenvolvedor
website: 
http://www.filebot.net/
FileBot is the ultimate tool for organizing and renaming your movies, tv shows or anime, and music well as downloading subtitles and artwork. It's smart and just works.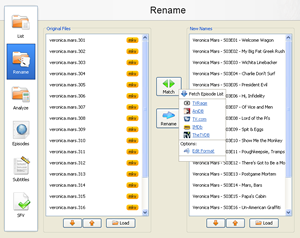 Video tutorial em inglês
http://www.youtube.com/watch?v=zcSFKiwFL...-5RoMclWPt
---
Apoie o projeto MEDIA Brasil. Faça uma doação ou assine e torne-se Vip - Tenha acesso aos recursos exclusivos das versões customizadas + acesso área vip do fórum.  
Support the Media Brazil project. Make a donation or subscribe and become VIP - Access the exclusive features of the custom versions + access the VIP area of the forum.
Request more info via chat or private message.
Please do not PM me for support; use the forum instead
---
Wanilton
Media Brazil Forum Staff
KODI 19.0 Matrix Custom /
Skin Aeon MQ9-0.4.0
Be Vip Plus, donate.